Portland, OR – At the heart of the Zerorez of Portland process is its ability to clean carpets, mattresses, tiles, upholstery, hard surfaces, and pet odors without detergents, residue soaps, shampoos, or harsh chemicals. The cleaning technology includes the Zr Lifter®, Zr Wand™, and Zr Water™, which allows the team to clean and refresh surfaces using electrolyzed water. They begin the cleaning process by applying the Zr Water™ to surfaces before loosening and lifting embedded dirt, oils, spills, hair, and soil with two counter-current rotating brushes of the Zr Lifter®. Upon completion, they thoroughly rinse the fibers/surfaces with the Zr Wand™ to remove up to 200% more water, particles, and contaminants left behind. 
One of the benefits of the Zerorez carpet cleaning service is that spots and dirt are less likely to reappear even after 6 months. Reappearing spots are often the result of wicking action from the back of the carpet to the tips of the fiber as it dries. The team prevents delamination caused by conventional hot water extraction cleaning methods. The cleaning process uses a premium fiber protectant to keep mattresses safe and clean. Individuals can enjoy a peaceful rest, increase the air quality in their homes, and reduce the risk of allergies with a clean mattress.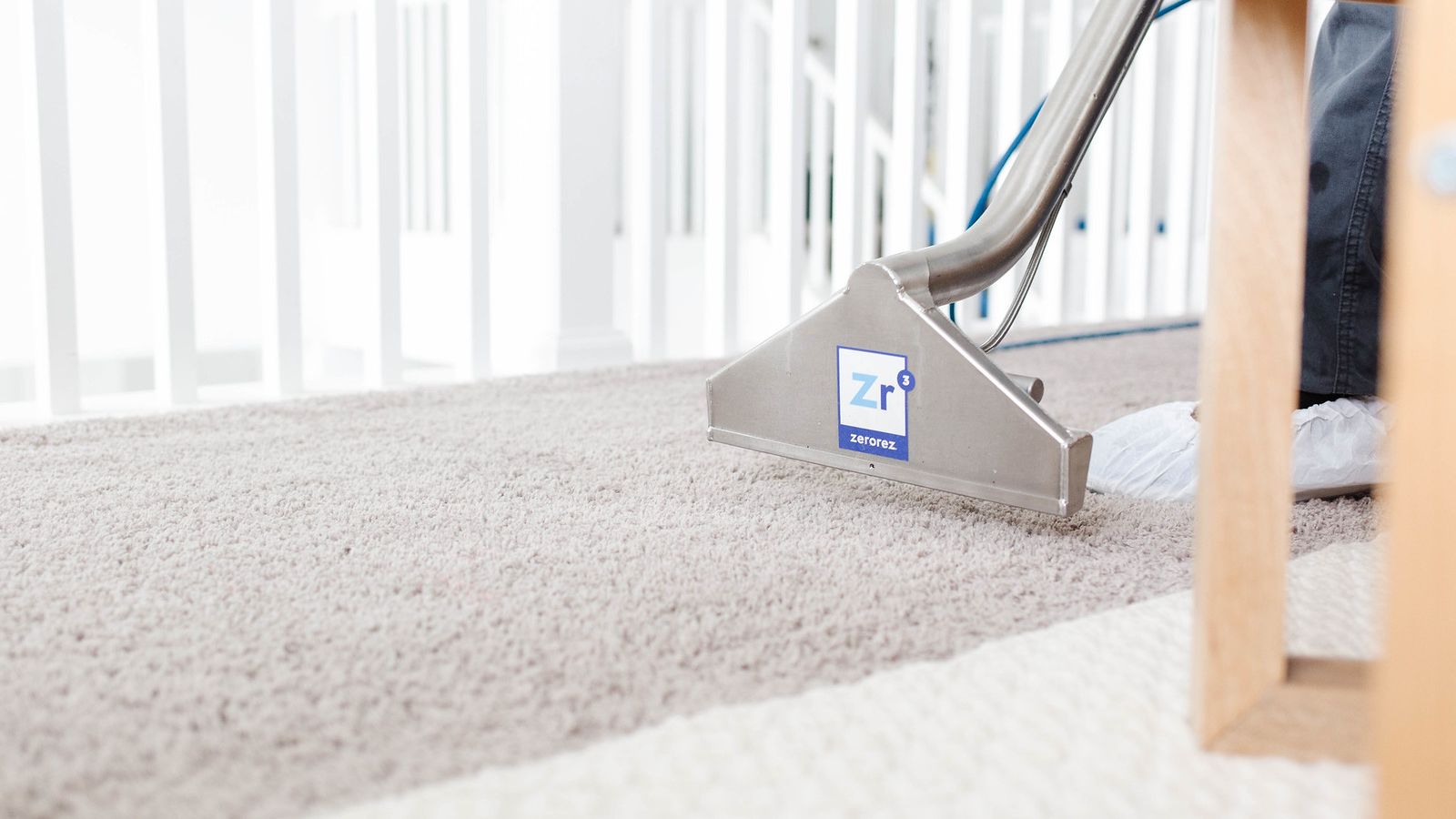 To clean an area rug, a master rug technician carefully inspects it, identifies spots/stains, and looks for any needed repairs. They then remove dust at the Zerorez® rug washing plant using compressed air and gentle taps to clear grit and dry soil. Their approach to dust removal puts less strain on the fibers and is more gentle and effective than shaking/beating. The rug is then placed in the 1,200 gallon washing tank filled with the company's Zr Water™ that lifts away the dirt without brushing or scrubbing. Once completed, the rug goes into a specially constructed centrifuge to be rinsed with cool water and spin-dried to prevent dye run and shrinkage. While damp, the team grooms, details, and sprays the rug with an environmentally friendly protective barrier before it's hung to dry and delivered back to the client. 
Zerorez of Portland removes soil and grime from tiles and restores grout color using their cleaning technology. The team then applies a surface sealer to protect the appearance of floors for years to come. The company's tile and grout cleaning service restores the floor's appearance, prevents stains and buildup, creates a smooth surface, and protects homes, pets, and the environment. 
As a Platinum Certified company, Zerorez of Portland has earned the highest approval rating from the Carpet and Rug Institute. It's also rated the #1 cleaning process in the nation by an independent testing laboratory. To learn more about their Zr Water™ and technology, visit http://www.zerorezportland.com/ or call 503-946-6955 to schedule a service. The company's located at 2618 SE Steele St, Portland, OR, 97202, US. 
Media Contact

Company Name
Zerorez of Portland
Contact Name
Finn Schade
Phone
503-946-6955
Address
2618 SE Steele St
City
Portland
State
OR
Postal Code
97202
Country
United States
Website
http://www.zerorezportland.com/